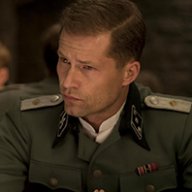 Dec 7, 2020
1,506
1,590
113
This is fucking unbelievable. So I got a call from my brother Friday afternoon to come out to the farm because there's trouble. I get there and come to find out that this man our family has done business with for years is a fucking crook.

I can't mention names but my father dealt with this guy when I was a kid. He deals in farm and other equipment, new and used. I remember this guy eating at our dinner table when I was in junior high school.

So anyway turns out he's been selling stolen equipment and my dad and brother bought some of it. Cops showed up looking for a generator (my brother bought it about 3 months ago) and a large rototiller blade (my dad bought about a year and a half ago). About 14 grand worth. They were asking all kinds of questions about how we got it, etc.

I can only guess this asshole got into stolen equipment because business was bad as we've bought from him for a long long time and never had a problem. His ass is in jail now pending a bond hearing. My brother spent all day Saturday unhooked the generator and getting the CB ready to go as they're picking them up tomorrow.

What's worse is not only is the farm out 14 grand, but we now are out a backup generator and a CB.

Double fucked because some asshole decided to start dealing in stolen equipment. You just can't trust fucking anybody anymore.