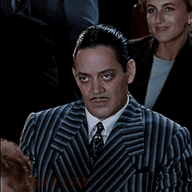 Grammar Fascist
Staff member
Dec 1, 2020
7,886
4,743
113
My wife is, generally speaking, easy to please. Her birthday is next week and all she wanted other than her annual seafood extravaganza I make for her is to have her car detailed and tuned up.
So that's what I've been doing all day. I actually started yesterday. Ordered the cabin filter and air and oil filters for it, picked up a couple containers of Mobil 1 and was all set.
Until this morning when I went to pick up the filters. They had the oil filter, but not the cabin and air filter. Apparently, the truck bringing those items hit a deer and was total loss. (The driver was OK. Luckily.) Welcome to Georgia.
So they said they could have them there by around noon. No problem. So I get the ball rolling by getting the oil change done. Then I got out the pressure washer and the Gunk Spray Engine Cleaner and went after the engine compartment.
It was dreadful, but now looks brand new. I'm on a roll.
After that I head up to the car wash place. I had wanted to get the full detail, but Mike told me he couldn't get any of his detail people to come back to work yet. (Apparently, they're milking the extended unemployment for everything they can before they come back. Welcome to Georgia. Again.)
So I told him do the best he could and after about an hour I was well pleased. While there I made a post here. Right after I made that post, the parts store called to tell me the filters are there.
I'm really on a roll now!
So I get back to the house after picking up the filters. I get the air filter out and...whoa! It was bad. I start trying to remember the last time I changed it and I just can't. Asking the wife was pointless as well.
No bother. On to the cabin filter.
Holy mother of God it was awful. I mean pitch black on one side, a touch of what appeared to be mildew on the other. I start trying to remember the last time I changed it and can't. Again.
I'm beginning to think I never have changed either one of the air filters on that car. Here they are (cabin filter on top, air intake on the bottom):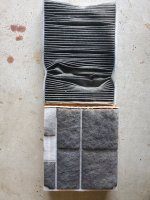 Ewwwwwww. Right?