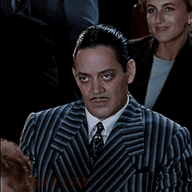 Grammar Fascist
Staff member
Dec 1, 2020
9,152
5,382
113
Well, it's finally going to happen. For Christmas, my wife wants a tiled shower stall. She's always wanted one but it's a massive project that:
Is so expensive we kept putting it off.
Is so time consuming we kept putting it off.
Is so difficult I kept putting it off.
Is so expensive we kept putting it off.
Of course, she isn't going to get it by Christmas. My daughter will be back for a bit and one bathroom for 4 people isn't going to work. I'll probably start after Christmas and the herd thins out.
The first challenge was that the tile I tiled the floor with is no longer made. It took forever to find something that's going to work decently. My wife absolutely loved this very high gloss marble tile from Turkey, so we bought it. Here's a piece of it: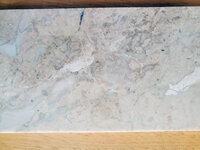 It's very hard to get a good picture of it. It has a bit more of a yellow tint to it and is so shiny it kept reflecting the ceiling and overhead light into it. It is
VERY
highly polished. It's also a half inch thick and VERY heavy. (Going to have to go to an 1/8th inch layer of quickset at least to hold this stuff up.)
And here's 1200 dollars worth of it: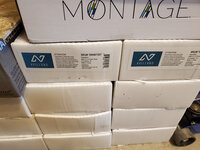 They had this stuff on sale that I'm going to use for the floor of the shower: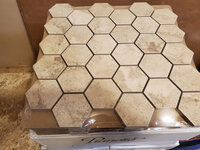 You can just see on the extreme left a floor tile that was used back when I did the floor. The shower will be a lighter shade of that but has the same color tones. I'm actually impressed that we found stuff as close in tone as we did.
Here's the shower head assembly we'll be using - we're going bronze on everything as we have throughout the rest of the house:
And the new Delta faucet: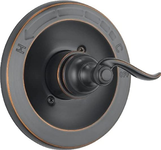 I'll be using the
KBS system
for the shower base, backer board, shelving, corner seat, drain, etc.
I expect to start by no later than January 2nd. I am of the opinion the project will take 4 to 6 weeks to complete, not because of any over-the-top difficulty, but because I'm old, half crippled and will taking it nice and slow.
I'm going to go ahead and sticky this as I'll be coming back to it after I start and posting the whole thing as I go along.
I'm estimating the total costs to be around the $5,500.00 mark. To have one done by a contractor like this would easily top $18,000.00.
Last edited: