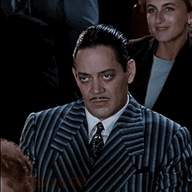 Grammar Fascist
Staff member
Dec 1, 2020
4,357
3,185
113
OK guys, here we go:
My daughter asked me about this time of the year 4 years ago to teach her how to play a guitar. I printed out a few chords, showed her a few progressions, taught her blues in A, and sent her own her way.
One of the very many things I love about my daughter is that she's very independent and wants to do things herself. Case in point: she has paid for her entire first semester at Georgia State University by herself.
She did the same thing with her guitar. I offered to let her use any of mine she wanted (and I do have some very good ones) but she'd rather have her own. So, while at a consignment shop one day 2 years ago, she bought one.
She brought it home.
It was awful.
It was a Hamer guitar made primarily of particle board. She paid 50 bucks for it. The bridge was hanging off it, two tuner keys were missing...it was just a complete failure.
So I patched it up with a new set of Alnico 5 pickups, some MOJO wiring, CTS Pots and actually refabricated the bridge mounts to make it playable. Here it is: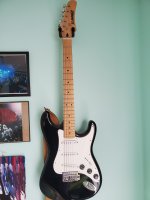 For the record, it doesn't play that badly. It also sounds quite good given the body is basically compressed particle board. You'll notice it's missing the high E string. She wanted me to restring it for her before she comes home for the holidays. Well, I figure I'll do that...but not on that damn thing. Not again.
So her favorite guitar player is Kurt Cobain. (Not much of a player, but still...credit where credit is due) She has a poster in her room exactly like this: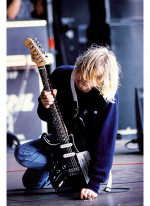 And THAT is the guitar I'm going to build for her, hang in her room in place of her Hamer and see if she notices. I just finished ordering the bulk of the parts. New Warmoth Franken Caster body, some Seymour Duncan including Kurt's favorite SH-4 at the bridge, New Fender hardware, tremolo, all of it.
I didn't order a new neck though as she's always wanted my old Chandler I've had for decades. I just need to get it out, clean it up and oil it up and it's good to go.
I'll post pics as I go on this thing just for lack of anything better to do. When done, it should look and sound EXACTLY like the one Kurt played in that picture.
Last edited: